We all know that when playing airsoft you need a high quality airsoft mask, but there are so many out there, how can you be sure to pick the right one?
Luckily for you there is an abundance of masks out there that finding the right one for you should be a breeze.
Having the right one can mean the difference between a BB or pellet causing serious damage, or it barley making an impact to you.
Their designs and build quality are second to none and will provide you with the highest level of protection when playing your next match.
Now I could sit here at my desk and type out why you need an airsoft mask, but you already know why, for safety! so instead of continuing on about their benefits, lets get into the real reason you're here, the find the very best mask for you.
Now I could sit here at my desk and type out why you need an airsoft mask, but you already know why, for safety! so instead of continuing on about their benefits, lets get into the real reason you're here, the find the very best mask for you.
Below is out list of what we believe to be the top products on the market today. These will provide the best protection at a price that wont break your wallet.
The 5 Best Airsoft Masks In The World Today
Jadedragon PJ Tactical Fast Helmet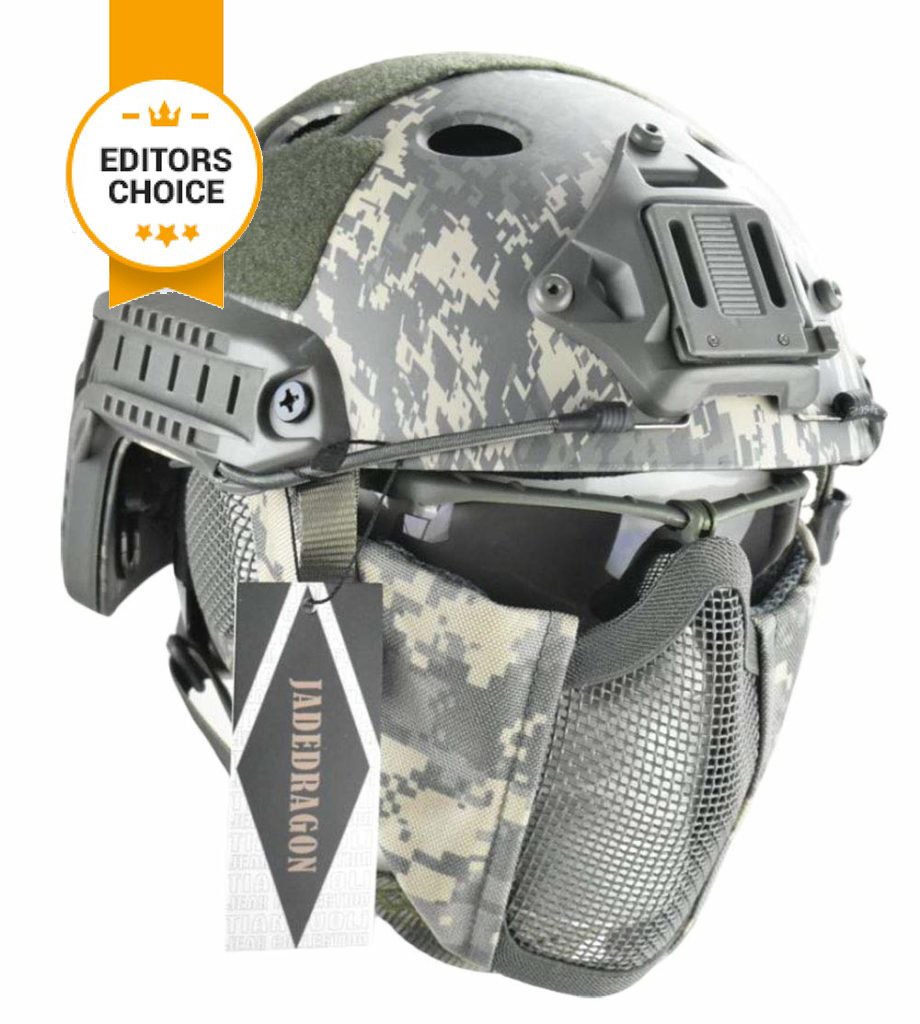 This airsoft mask set up includes a fast helmet, pair of tactical goggles and a half face fold-able mesh design. The helmet is made of ABS engineering plastics lined with an anti seismic foam and nylon hook and loop.
A soft padded nylon fabric covers the steel metal half face mesh. Lastly, polycarbonate lenses are used on the Thermoplastic polyurethane framed goggle.
Features Of This Mask
This product is designed to fit most wearers with a circumference of 21.2 to 23 inches. For the perfect fit, the design also includes a rear located adjustment dial.
The use of high quality materials, including plastics, and exceptional construction makes for a long lasting and high quality mask that will serve users reliably over the years.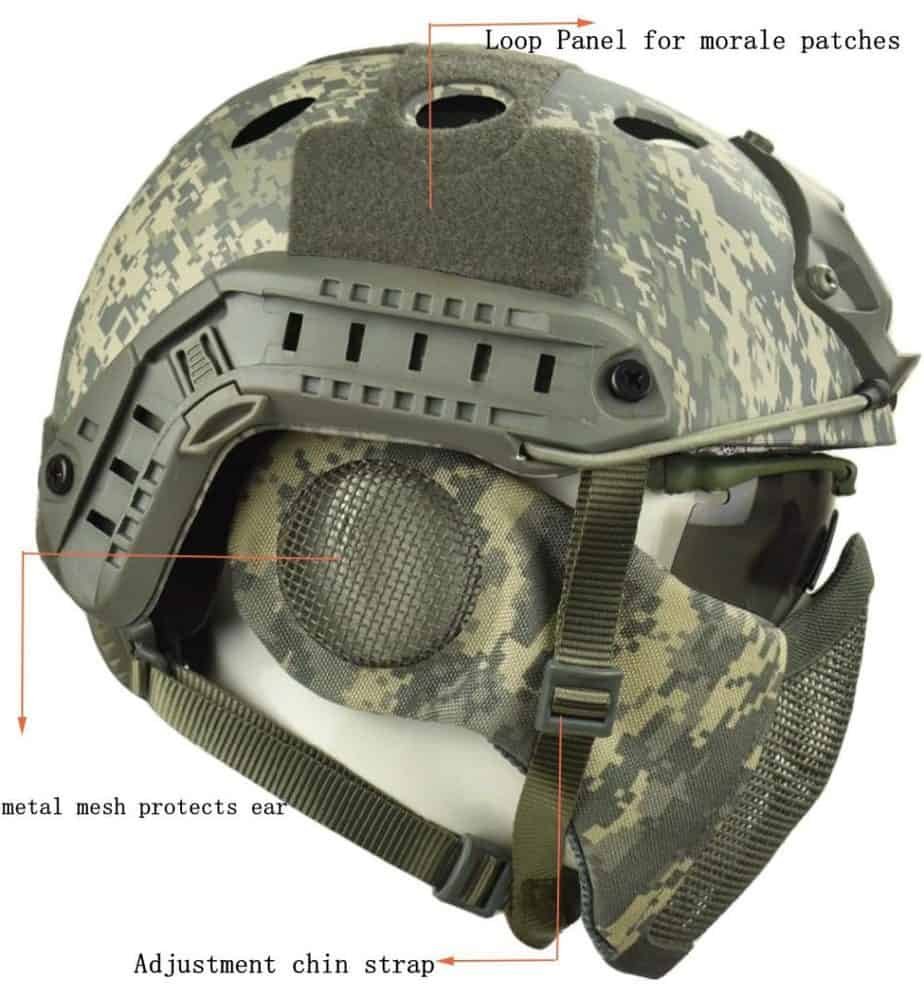 The adjustable half face build combined with the helmet's lightweight construction makes it incredibly easy to carry around.
The mask is designed to accommodate a variety of accessories, especially with the easy to access bungee retention cord.
It also comes with a well constructed mount for holding your Night Vision.
Attaching important airsoft equipment such as NVG Shroud, flashlights and google strap clips is easy with the helmets side rail pairing.
Nametapes, safety lights and IFF can also be attached to it conveniently using the Hook and Loop set up.
The easily customizable design makes it easier for users to create their most preferred equipment setup.
Adding a GoPro, night vision, flashlight or any other important bits of equipment is easy and effortless.
On the flip side however, some users have complained about how poorly the chin strap fits; some saying that it seems to be more of a neck strap.
Overall, this is an affordable, reliable and easily customizable airsoft mask that will deliver the necessary level of face and eye protection during airsoft matches.
Ubelly Motorcycle Goggles with Detachable Mask
Easily adjustable from a full set up to half helmet or even open face set up, this is designed to include two main components, a pair of protective goggles and a face mask designed to cover the mouth.
The frame is made out of thermoplastic polyurethane, while the lenses are polycarbonate.
Features Of this Mask
This Ubelly is designed to be easy to dismantle or put together to support the immediate requirements of the user.
The goggles can be removed from the mask allowing for separate use of each component.
For the best protection during use, the mask comes with a high quality elastic band made of 100 percent cotton attached to a non-slip strap.
This facilitates a snug fit for wearers of all sizes.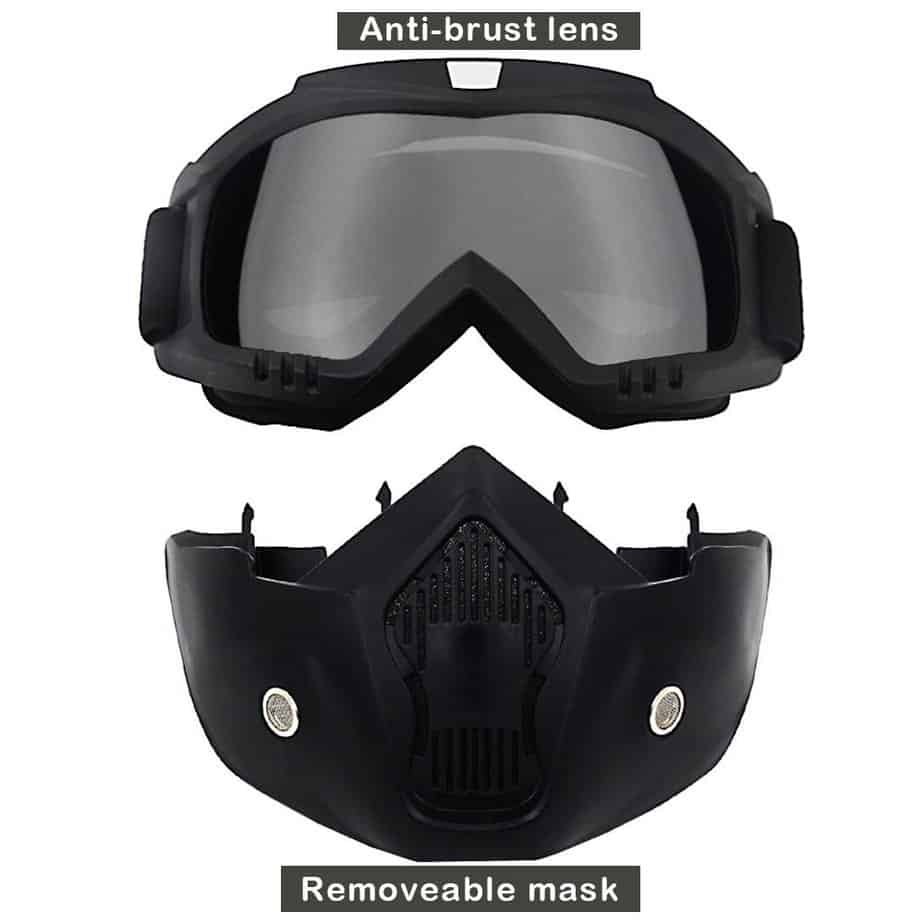 In addition to a perfect fit, the inner surface of it is lined with a soft foam that rests comfortably on the face.
Reasonably sized holes combined with a breathable mouth filter ensure that users can breathe comfortably when wearing the it.
The goggles are fitted with high quality polycarbonate lenses that protect the user's eyes from solid objects as well as UV rays.
This is a high quality, comfortable and easily adjustable mask that can be used for a variety of outdoor activities.
It can be paired with a separate helmet to provide additional protection in airsoft applications.
On the other hand, this does not completely cover the wearer's face, and leaves the ears exposed as well; this means that it does not offer the highest level of protection especially when used as an airsoft mask on its own.
The Ubelly is great protection; however, to enjoy the highest level of protection during airsoft competitions you might need to add a well matched helmet to the set up.
OutdoorMaster Full Face Airsoft Mask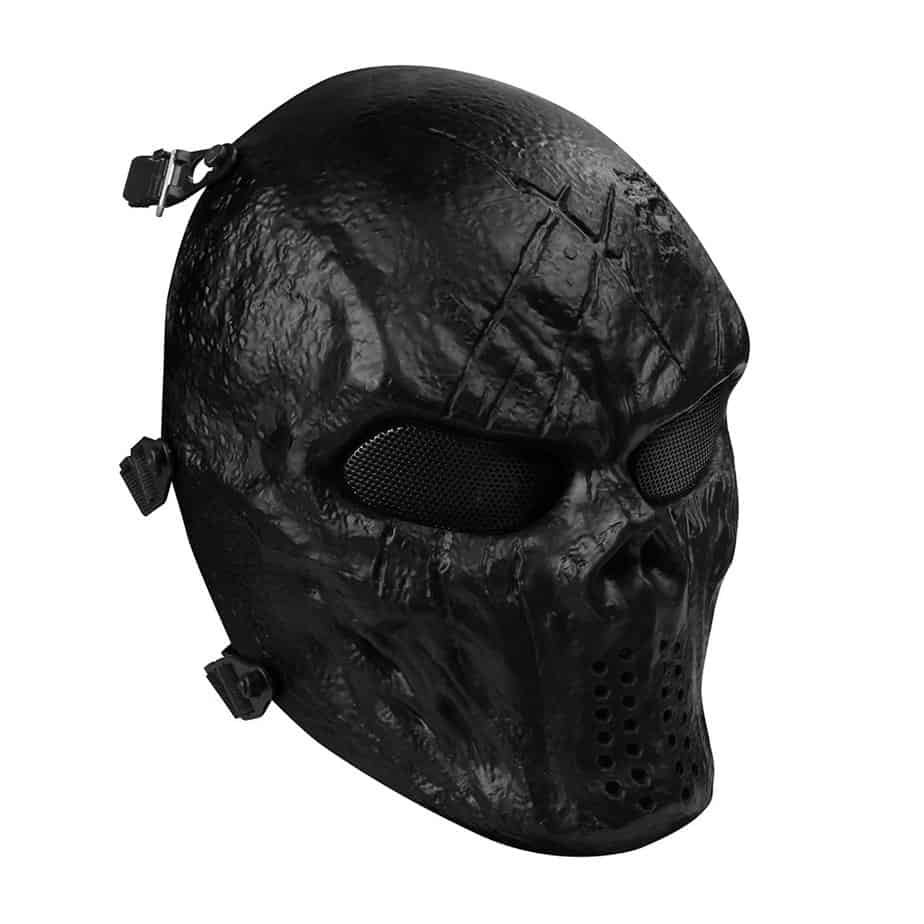 If you are looking for full face protection, then the Outdoor Master Full Face mask for airsoft is worth your consideration.
This is made of a synthetic resin material that is capable of comfortably withstanding the force of airsoft pellets.
For the best eye protection, it comes with metal mesh shields.
This is available in nine different finishes for the coolest look.
Features Of This Mask
Made of synthetic resin and metal mesh, the Outdoor Master is designed to meet the highest quality standards.
A one year warranty offered by the manufacturer also speaks to the quality of the product.
This face mask is fitted with six easily adjustable straps to ensure a tight fit every time. 
Furthermore, the nose and forehead area is lined with comfortable padding to facilitate the most comfortable fit.
Designed to completely cover the wearer's face, the Outdoor Master offers a good level of protection for any airsoft or even paintball match.
This, combined with the metal mesh eye shields ensures that users don't have to worry about getting hit in the face by projectiles.
To make sure that users can breathe comfortably and also communicate clearly with others, it has a perforated nose and mouth area.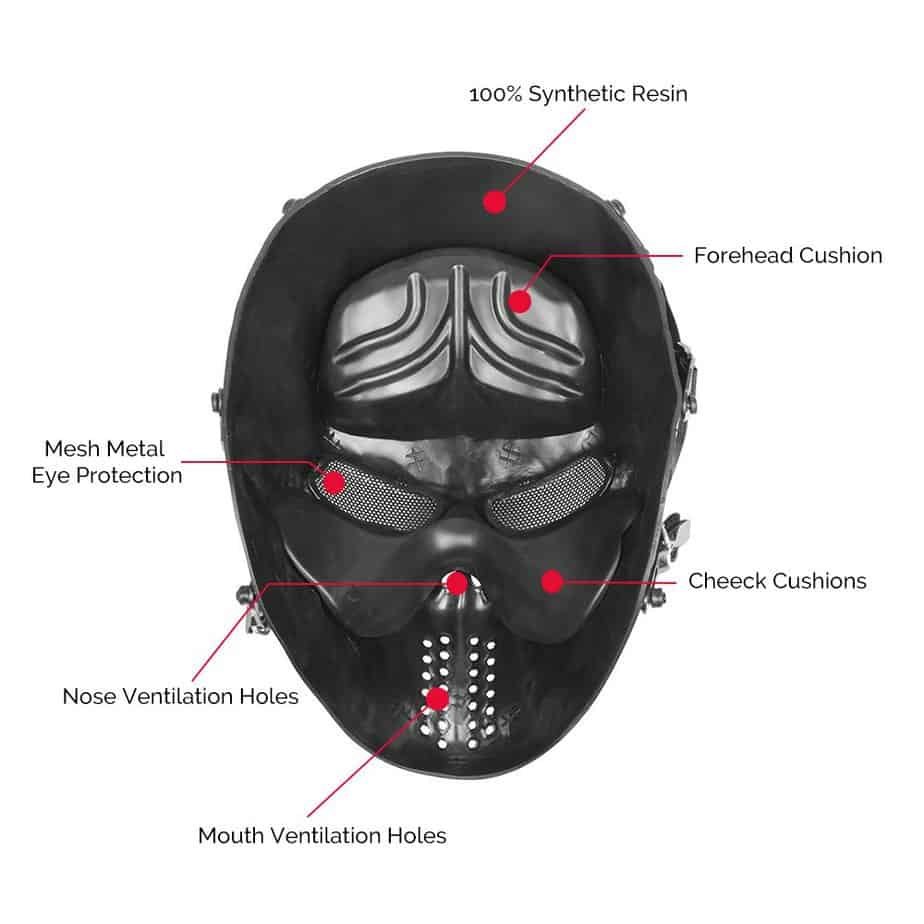 As a full face build, the Outdoor Master, with metal mesh eye shields, sufficiently protects you from pellets.
Add in the cool styling and you can see why this is one of the most highly rated airsoft masks out there.
All in all, the Outdoor Master does a great job of protecting the players face, and just looks straight up awesome!
There is absolutely nothing bad to say about this well built and durable product.
Fang Half Face Mask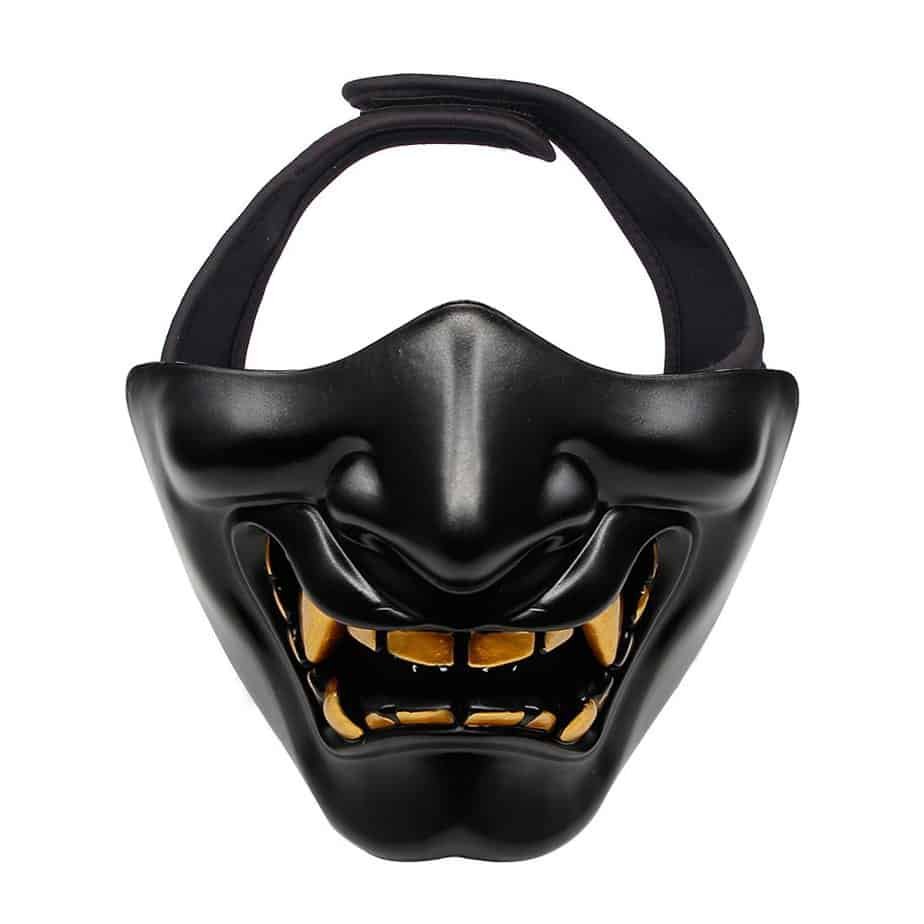 If you're looking for a mask that will put fear into the opponents eyes, then this is something else.
This mask has such a fantastic design and such a cool look to it that it will make you stand out in your next match.
Features Of This Mask
The level of detail on this is above the rest and has had an equal amount of time and care put into the mold, as well as the finish.
This is going to be a mask that you will want to pair with a solid set of goggles. Undoubtedly you will be the fiercest player on the field.
I is constructed from a solid plastic piece that is sturdy and can withstand even the largest barrage of BB's.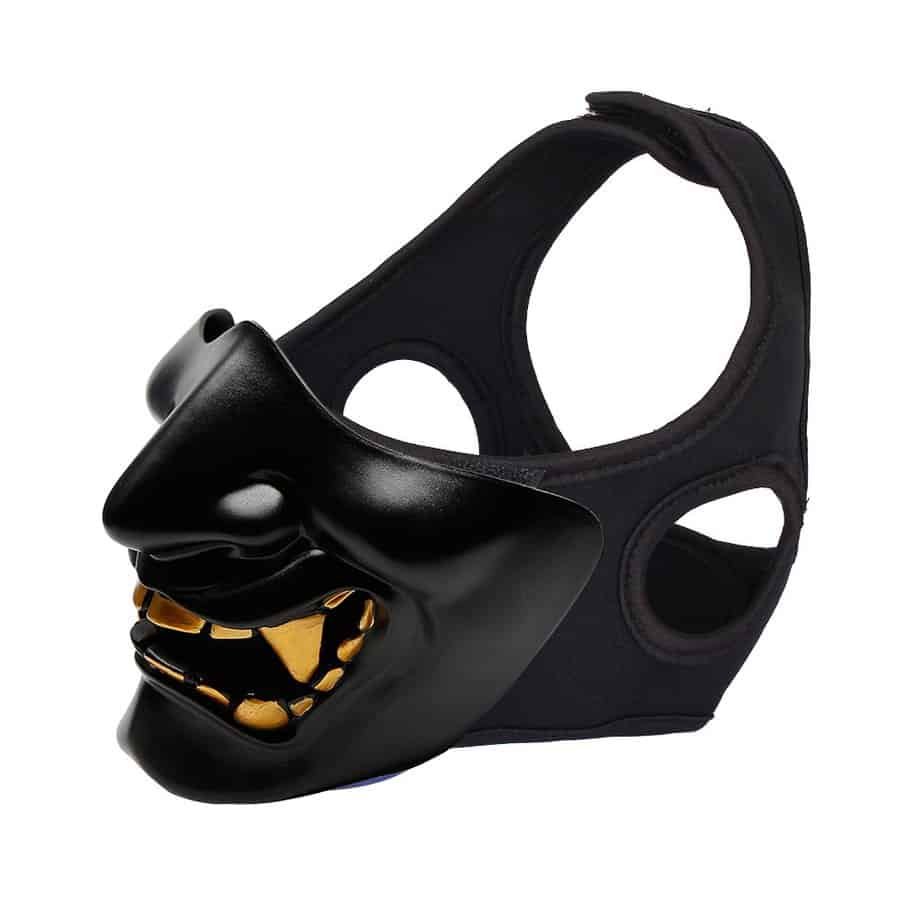 It comes with a stretchy fabric strap that will make it an easy fit and will ensure a level of compatibility unlike a lot of the other products.
This is really something that looks menacing, but in a good way.
The mold itself comes with a protective coating that makes it very hard to scratch and makes it very easy o clean all of the dirt and dust off.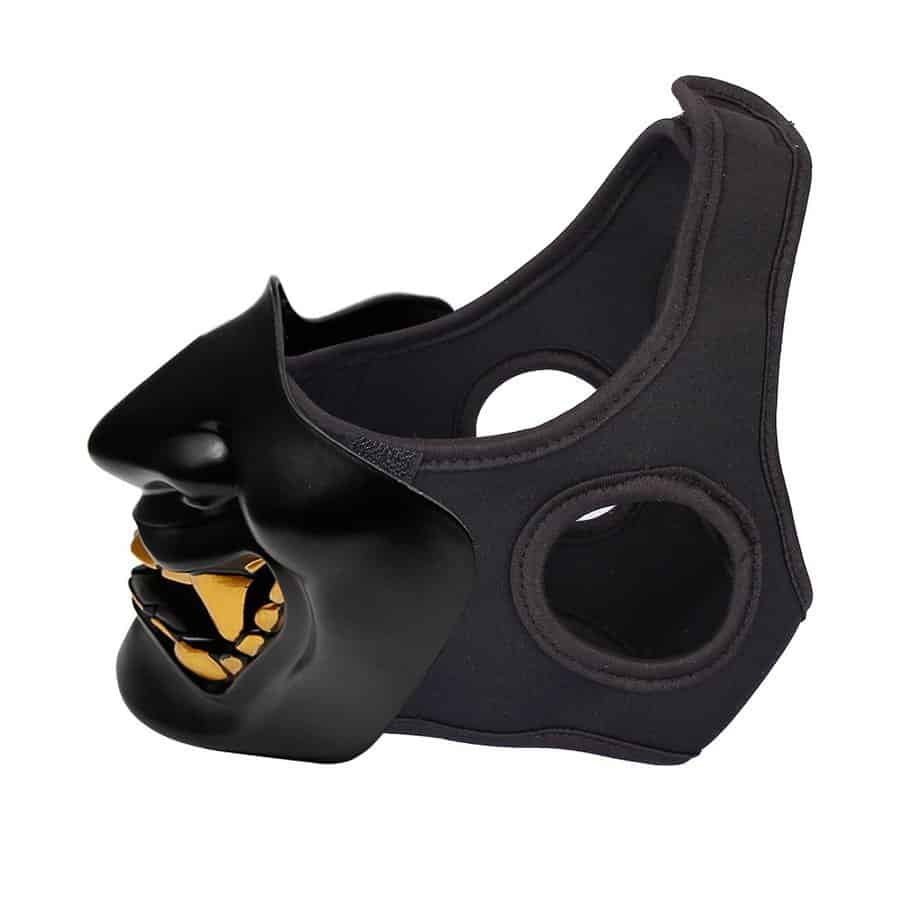 If you're a beginner or a seasoned pro, this will be a welcome change to the traditional masks that look more like military pieces.
It provides a solid level of protection from projectiles and will keep your mouth, nose and cheeks fully protected.
This is a great option and have a very friendly price tag of under $20, so there's no real reason to not have this in your collection.
Airsoft Gas Mask
If you're after a design hats a little bit different, or you just love the Post–apocalyptic feel, then this is a mask than may spark your interest.
This design is an exact replica of the gas masks used during the war, and believe it or not, actually provides one of the best types of protection when it comes to the sport.
This beauty covers your entire face, and has a clear vision due to the clear plastic lenses. 
The straps that come attached are great in the sense that they're adjustable, with tight settings which should fit any head size from full adult even down to children.
Due to the filters that are attached to the mask, it can feel a little bulky, but they actually provide a hidden benefit that most people may not notice.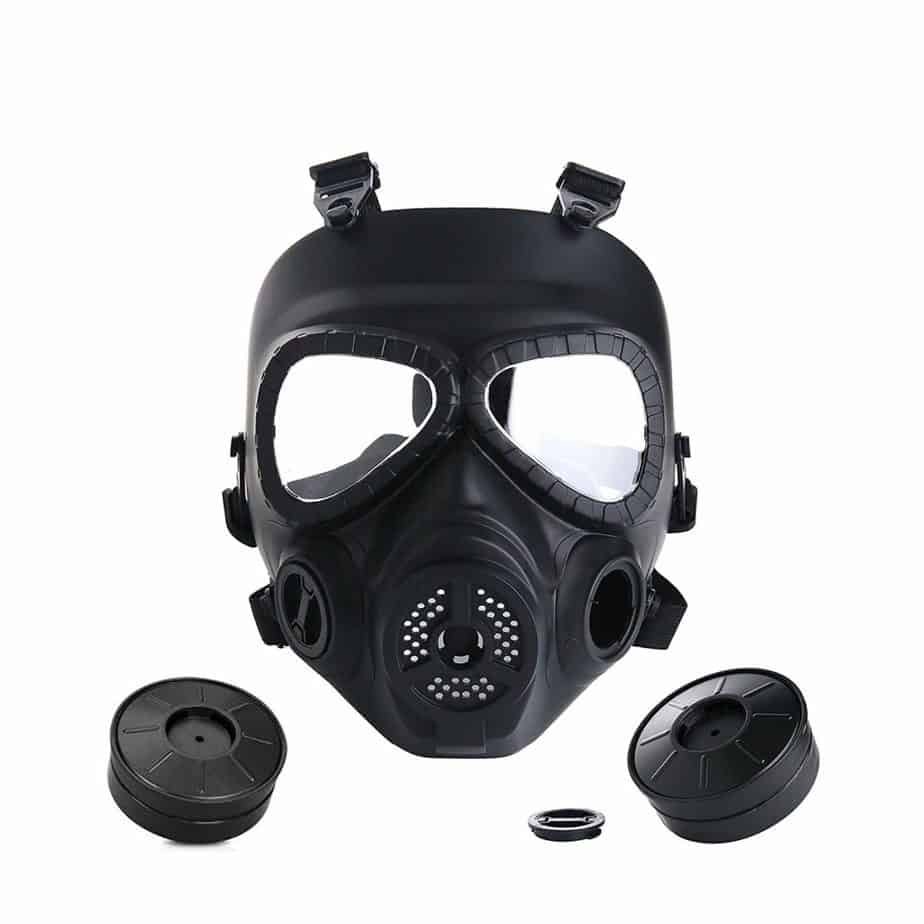 If you're playing a match on a foggy morning, or on a dusty summer day, the filters will actually prevent any fogging up, condensation, or any dusk getting into the mouth area of the mask.
This is a really cool feature as it makes breathing while running, crouching and keeping a stealth approach far easier and you don't have to worry about dirt and debris making it way in.
This is a fairly cheaply priced option and should be a good option for almost all players out there.
This mask is a good little option if you want something that looks a little more vintage and terrifying than the other options, and will also work fantastically for anyone that is into the ww2 airsoft trend.